Geography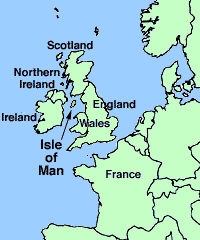 The Isle of Man lies at the centre of the British Isles right in the middle of the Irish Sea, yet it is a truly separate and clearly defined region in both geographic and political terms. It is 227 square miles (572 sq.km) in area, measuring 33 miles (52 km) from its northernmost tip at the Point of Ayre to the Calf of Man in the south. At its widest point it is 13 miles (22 km) from the east to the West Coast. Distances to mainland points are 16 miles to the Mull of Galloway (Scotland), 34 miles to St.Bee's Head (England). 40 miles to Strangford Lough (Northern Ireland) and 55 miles to Holyhead (Wales).
Transport distances are different. By sea Liverpool is 68 nautical miles from the Island and Heysham, the other main linking port, 58. London, by air, is 220 nautical miles from the Isle of Man airport at Ronaldsway whilst Manchester is 95, Birmingham 145, Leeds 105, and Liverpool 77.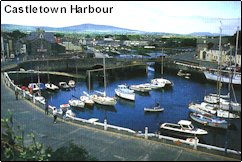 In terms of geology and scenery the Isle of Man offers tremendous variety within its small area. Rugged cliffs and magnificent coastal scenery, gently sloping beaches, heather moorland, rich farmland, glorious glens and wooded areas are all easily accessible. The highest point of the Island is Snaefell (2,036ft - 621 m) from whence on a clear day there are splendid views over most of the Island and across the sea to the neighboring islands. The upland area of the Island is split by the Central Valley connecting Douglas, the present capital and largest town (population 23,500) with the main fishing port, Peel (3,800). The other towns are Ramsey(6,900), Castletown, the old capital (2,900), Onchan (8,700), Port Erin (3,200) and Port St.Mary (1,900). The total population of the Island is some 73,000 giving a population density of only 316 people per square mile (125 per sq.km).
The Island enjoys a temperate climate. Being warmed by the waters of the Gulf Stream it escapes extreme weather conditions. Average daytime temperatures in July are 17.6c although a temperature of 28.9c was recorded on July 12th 1983! Other figures for the month of July are - days with some rain - 14, average hours of sunshine - 6.5. It can be quite windy at times, particularly in the winter months.