Organisation Update
Administrator for the
NatWest Island Games 2001 appointed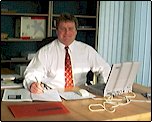 The Executive Committee of the NatWest Island Games 2001 has announced the appointment of Gary Jakeman as Games Administrator.
A former teacher of Physical Education, Gary has a wide experience of a number of sports especially football, athletics and rugby, including representative honours at county and junior international level. Following a serious knee injury he was forced to move out of PE and has spent 10 years in project management roles between business and education.
Executive Chairman, the Ven. Brian Partington commented: "We are very fortunate to have been able to recruit someone with Gary's background in both sport and project management."
Until recently Gary was the sports organiser for Volleyball in 2001 and Brian added: "It was nice to be able to appoint someone who was already part of our voluntary team - the only problem is we now have to find a new volleyball organiser!"
Gary Jakeman took his appointment on 1st February on a part-time basis and until the end of May will be fulfilling his part-time teaching commitments at St Ninians High School where he teaches Information and Communication Technology. He will be moving to full-time in June.
Ten days into his new job, Gary commented: "For me this was a once in a lifetime job opportunity and I am really excited about the potential for a fantastic Games in 2001."
Gary can be contacted on 481485 and will be based in the former Manx Sport and Recreation Office at NSC Outdoor.