Shooting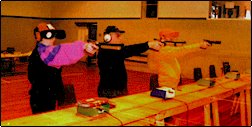 Welcome

Clay target shooting action at this year's NatWest Island Games will take place at the Blue Point range in the Ayres.
There will be both individual and team competitions for men and women in each of the four events: ISSF skeet; ISSF double trap, ball trap and sport.
The Isle of Man has enjoyed a history of success in this shooting discipline, with Manxman Nigel Kelly claiming the gold medal in the ISSF skeet event at the 1986 Commonwealth Games.
More recently, the Island's skeet team at the 1999 Island Games (David Clague & Jeff Corkill) took gold, while Peter Kelly won the individual automatic trap event in Gotland.
Also in 1999, Peter went on to combine with Philip McCombe to earn bronze in the automatic trap team competition, while David was placed third in the
individual skeet event.
A jury of representatives from competing islands, drawn from a hat, will officiate at the event.


THE NatWest Island Games airgun competition is to be hosted at the Isle of Man Arts Society headquarters.
The sport is usually based at Onchan school but, as children will still be in lessons during the competition week (July 7-14), an alternative venue was purposely sought.

A badge contest will be the first take place, giving shooters and officials a practice run.

Both individual and team events will then be held in the ISSF air rifle and air pistol disciplines for men and women, with Olympic finals in the individual competitions.
Manx airgun shooters will be aiming to improve on their form from Gotland, where they failed to gain a medal in this discipline.

A judge from Scotland will head a panel of officials from competing islands for the event.

PISTOL shooters will be able to enjoy the new facilities at Slieau Lhost for the Island Games.
The recently built small arms range at Windy Corner will host a total of 11pistol events, including centre-fire, standard, free, sport and police pistol competitions.

A small team of three or four Scottish officials will be in charge of adjudication for the competition

The Shooting Associations of the Isle of Man extend an invitation to all shooting competitors of the member Islands of the Island Games Association to join them in competition at the NatWest 2001 Island Games.

Securicor Isle of Man Ltd are sponsoring shooting at the Games, which is particularly fitting as the company are the principal carrier of firearms in the British Isles. They will also be responsible for security and storage of the weapons at the competition.

THE rifle event is one of four disciplines that will be included in the shooting programme at this July's NatWest Island Games: airgun; clay target; pistol and rifle.
Shooters will chase both team and individual medals for men and women in three positional and prone competitions. A maximum of two people per competing nation are permitted in every individual class.

Each island is entitled to enter two or three shooters for the team contest. Although the Isle of Man shooting co-ordinator, Harry Creevy, is trying to encourage more women to enter, if nations are unable to field a female pair, the team event may be mixed. The two individual scores recorded in the team event are added together to produce the final total.

The three positional event involves participants firing the same number of shots while lying (prone), standing and kneeling. Men will shoot 40 times in each stance, women 20.
For the prone competition, men must fire a total of 60 shots while lying, women 40.

The venue for the 50 metre small bore rifle events will be the Sinclair Range in St John's which has 32 covered firing positions.
The Island is lucky enough to have an international rifle official, Stewart Watterson, who has just qualified to be an ISSF class B judge, and he will be co-ordinating this event at the Games.

The Isle of Man rifle team, which consists of international shooters, should perform well in this competition if the 1999 Games results are anything to go by. However, the standard of the shooting at the event is usually very high as many entrants regularly compete at Commonwealth Games Level and Gotland are expected to be particularly strong.

In Gotland, Dave Moore, who also claimed silver in the same event at the 1998 Commonwealth Games, won the 50 metre prone rifle contest, and teamed up with Phil Glover to take silver in the team competition of the same discipline. The 50 metre gold award was just one of eight events won by the Island's shooters at last year's Games.

Selection trials for Isle of Man competitors will be heald in early Spring.


PISTOL

We have recently received confirmation of planning permission for the new Small Arms Range approximately 7 miles (11km) North of Douglas. The Range will consist of 20 covered firing positions for 50 and 25 metres.

Events

I.S.S.F. Events:- Centre-Fire, Standard Pistol, Free Pistol, Sport Pistol (standard handgun) Non I.S.S.F. :-Police Pistol 1, Police Pistol 2, PPC 1 500, Service Pistol B, Practical Target Pistol The above competitions are for both Men and Women with Team and Individual events.

Shooting Co-ordinator:
Harry Creevy

shooting@islandgames.org.im
AIRPISTOL & RIFLE
A new venue has been secured at Ballabeg just outside Castletown in the south of the Island where the 2000 Commonwealth Shooting Federation European Division Championships will be held and should prove an excellent rehearsal for the 2001 Games.
Events
I.S.S.F. Air Rifle and Air Pistol Badge, Team and Individual competitions for both Men and Women, with Olympic Finals in the individual events.

Mike Howland
Air Gun Co-ordinator
SMALL BORE RIFLE
The 50 metre Rifle events will be held at the Sinclair Range, St Johns. Located in the centre of the Island, approximately 9 miles (15km) from Douglas, the Range has a Clubhouse equipped with modem facilities, 32 covered firing positions 1.5 metres wide, for Prone and 3 Positions, and will be equipped with electric target systems later this year.
Events
Prone and 3 Position, Badge, Team and Individual events, for both Men and Women with Olympic Finals in the individual events.

Stewart Watterson
Rifle Co-ordinator
CLAY TARGET
Clay Target The Clay Target Competitions are being held at the Aryes Shooting Ground Blue Point in the North of the Island, approximately 24 miles (39 km) from Douglas. The Complex has Skeet, Trap and Sporting layouts. The facilities at Ayre Clay Pigeon Club, at Blue Point, do now include a Trench layout ready for the Olympic Trap discipline.
Please note: There will be Flash Finals in the Skeet and both Trap individual events.
Events
The four disciplines that will be held will be:
Olympic Skeet
Olympic Trap
Auto Ball Trap
Sporting

As of 20th May, there will be no separate c lay shooting events for ladies, due to lack of entries.
CLAY TARGET SHOOTING PROGRAMME OF EVENTS
| | | |
| --- | --- | --- |
| SUNDAY 8TH JULY | 09.30 HRS | TEAM SPORTING - 100 TARGETS |
| | | FOLLOWED BY PRESENTATION |
| | PM. UP TO 17.30 HRS | PRACTICE ISSF SKEET AND ABT |
| MONDAY 9TH JULY | 09.30 HRS | TEAM ISSF SKEET - 100 TARGETS |
| | | TEAM ABT - 100 TARGETS |
| | | FOLLOWED BY PRESENTATIONS |
| | PM. UP TO 17.30 HRS | PRACTICE OLYMPIC TRAP |
| TUESDAY 10TH JULY | 09.30 HRS | INDIVIDUAL SPORTING - 100 TARGETS |
| | | FOLLOWED BY PRESENTATION |
| | 13.30 HRS | TEAM OLYMPIC TRAP - 100 TARGETS |
| | | FOLLOWED BY PRESENTATION |
| WEDNESDAY 11TH JULY | 09.30 HRS | INDIVIDUAL ISSF SKEET (DAY 1) 75 TARGETS |
| | | INDIVIDUAL ABT (DAY 1) 75 TARGETS |
| THURSDAY 12TH JULY | 09.30 HRS | INDIVIDUAL ISSF SKEET (DAY 2) |
| | | 50 TARGETS + FLASH FINAL |
| | | FOLLOWED BY PRESENTATION |
| | | INDIVIDUAL ABT (DAY 2) |
| | | 50 TARGETS + FLASH FINAL |
| | | FOLLOWED BY PRESENTATIONS |
| | 13.30 HRS | INDIVIDUAL OLYMPIC TRAP (DAY 1) 75 TARGETS |
| FRIDAY 13TH JULY | 09.30 HRS | INDIVIDUAL OLYMPIC TRAP (DAY 2) 50 TARGETS + FLASH FINAL |
| | | FOLLOWED BY PRESENTATION |
| | | |

Alan Brew
Clay Target Co-ordinator