Tennis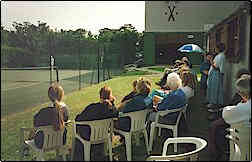 Tennis in the Isle of Man will be staged at two venues in Douglas. The largest club, Albany will host the Men's events on 3 acrylic courts (2 floodlit) and one acrylic covered court.
Entries in the NatWest Island Games tennis event have risen to 14 men's and 12 women's teams.

Preparations for the competition are well under way, with new courts having been installed at the Albany LTC and Kensington Road venues. The new clubhouse at Albany is also nearing completion.

Volunteers are still needed and anyone who thinks they could help with tennis at the Games should contact co-ordinator Bryan Sharp on 861497.

Manx Airlines have been confirmed as sponsors of the Island's teams for the sport.

The Ladies' events will be played on 3 artificial grass courts ( 2 floodlit ) at a nearby centre. There are numerous tarmac courts in parks and schools, as well as 3 artificial grass at a hotel plus, one private indoor court, which will be available in the event of inclement weather. Tennis in the Isle of Man is a growth sport with a full-time Development Officer/Performance Officer and LTA qualified coaches. The Island is classed as a county within the Lawn Tennis Association and play in inter-county competitions at most age levels. In 1998 the Isle of Man Lawn Tennis Association celebrated it's 60th Anniversary but tennis has been played for many more years than that and did until recently have a club that was over 100 years old.
Events will be:
Men's team, Ladies' team
Men's Singles, Ladies' Singles
Men's Doubles Ladies Doubles
Mixed Doubles may be offered.
WORK on the tennis competition venues for the 2001 NatWest Island Games is now complete.

The three outdoor courts at Albany Lawn Tennis Club's Ballaughton venue have been upgraded to Plexipave, while the Plexicushion indoor court has been resurfaced. A new clubhouse is also being built and is expected to be completed by October.
Competing islands are being invited to bring a small plaque to form part of a mosaic on one of the walls in the entrance hall of the new clubhouse to commemorate the Games' visit to Mann.

Matches in the men's event and all finals are to be played at Albany, while the women's competition will take place at the Kensington Road sports ground where there are three artificial grass courts. There will be a fourth hard court on part of which spectator seating will be placed, but the net will be left up to allow players to have a warm-up hit.
The Kensington Road refurbished clubhouse also has shower facilities installed in preparation for this year's tournament.

About 25 teams are expected to compete with Dunlop FORT tennis balls at the 2001 NatWest Island Games. Up to now, 12 men's and 11 women's teams have expressed interest in participating, but final numbers will not be confirmed until entries close in January.
Prince Edward Island, who competed last year, have yet to enter but Alderney and Saaremaa, who did not play in Gotland, may be sending teams to the Isle of Man next July.

The tennis programmes will include both an individual and team event, with the latter competition consisting of men's and women's singles; men's doubles; women's doubles; and, weather permitting, mixed doubles.
The referees for the event will be Keith Dewick,who was also a referee in Gibraltar, and his wife Anne, both LTA qualified officials, while the tennis results service will be run by Phillip Bannan.

The Isle of Man team will be hoping that home advantage will play a part, as they seek to improve on their performance in Gotland where they won two medals. In 1999, the women's team of Karen Faragher, Jane Miller, Emma McDonald and Paula Shimmin, claimed bronze while Karen and Jane teamed up to achieve the same position in the women's doubles.

Tennis Co-ordinator:
Bryan Sharp