Spot Light on Sport Gymnastics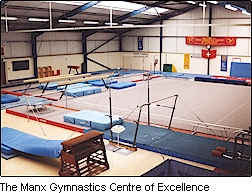 Gymnastics is powering ahead for the 2001 Games. Not being in Gotland has made the Islands gymnastic team all the more determined to make the 2001 Games in the Isle of Man the Frost successful ever.
An Island gymnastics competition is being held in Ynys Mon later this year and it has attracted 90 competitors from 6 islands. This demonstrates the commitment of the Islands towards gymnastics and shows that the sport deserves to return to the Island Games family in 2001.
New Islands are always made welcome in gymnastics and the programme is designed to cater for Islands who only have the basic facilities.
The Gymnastics Co-ordinator for 2001, Ian Bradshaw, will be in Goland to answer any queries you may have. The Isle of Man Gymnastics Association is honoured to have been chosen to bring gymnastics back into the Island Games. We look forward to organising an exciting competition in a friendly atmosphere.
Gymnastics Co-ordinator.


Ian Bradshaw
40 Wybourn Grove,
Onchan.
Isle of Man,
British Isles.
1M3 4AN.
Tel. No. 01624-623065.
E-Mail: manxgymnastics@enterprise.net