Betinternet.com, sponsors for Games 2001 radio.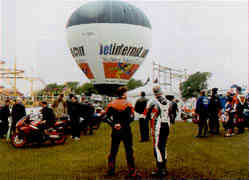 Onlookers at this year's Isle of Man T.T. races look on with amazement as Betinternet's hot air balloon takes to the air in the Suzuki Village.

Apparently, Suzuki were so taken with the impact of the balloon that they have made a formal approach to Betinternet for next year to promote their product. Sadly the weather at this year's T.T. was not really suitable for balloon flying, but we are looking forward to next year's Games where we hope that the balloon will be a central attraction at the National Sports Centre.