Spot Light on Sport Triathion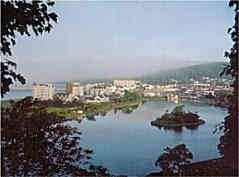 Preparations are well under way for the staging of the Triathlon event at the next Island Games here on the Isle of Man.
The Islands 'Tri Club' has a wealth of experience in organising Triathlon championships having staged the British Home Nations team championships this year at Port Erin in the South West of the Island.
However, for the 2001 Games a new venue is being used in the North of the Island at Ramsey. The event will be staged around the beautiful Mooragh Park including the 1500m swim which will be in the lake pictured above. The surrounding gardens, pathways and easy access to the abundance of low traffic roads nearby lend themselves to both the cycling and running.
The cycling will take place on the Northern circuit around Andreas and Jurby, which is also being used for the Cycling Time Trial.

Ian Brand
Triathlon Co-ordinator
19 Close Quane
Peel
Isle of Man
Tel 01624 842891 or 07624 441624