International Island Games Association General Meeting, Holyhead, Ynys Mon.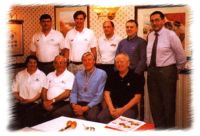 The first meeting of the IIGA in the new Millennium took place on Friday 1 8th February at Holyhead, Ynys Mon.
Many issues were on the agenda for discussion especially an update of progress on the Isle of Man and the proposed amendment to change the timescale for entries for the games in 2001. Gary Jakeman gave a demonstration of an Entries Database which he has designed for the Games. If approved at the AGM in July, this software will be used to manage the entries and accreditation for the 2001 Games.
The next meeting will be held on the Isle of Man on Sunday 16th July 2000 at 9.00am at the Sefton Hotel. This will coincide with the preview visits arranged by the Organising Committee for 2001 for both the IIGA and Island IGA representatives.