Isle of Man Steam Packet Company Join the growing list of sponsors for the NatWest Island Games 2001

Welcome to you from the Isle of Man Steam Packet Company. We are the oldest continuously operating shipping company in the World and we have been bringing people to our Island through our network of Irish Sea services for 170 years!
Amongst the many ventures that we choose to support within our Island is one of encouraging people young and old to swim. Together with the Island's National Sports Centre we sponsor members of the community in successfully swimming a distance of 78 miles (or 5021 lengths of the pool) being the actual distance between the Island and the port of Heysham to which we sail to and from daily. We are delighted to be a sponsor in this most prestigious event on our Island and wish all our competitors an enjoyable and rewarding stay on our Island.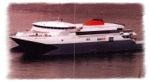 For further information contact Geoff Corkish, Communications Manager, at Isle of Man Steam Packet on 01624 661661.