NEW FACILITIES ON TARGET
The hub of the 2001 Games will be the £20million National Sports Centre complex in Douglas. Phase 2A of the project, incorporating an 8 lane x 25 metre single depth competition pool, opened to the public in January 1998 and the next phase, including a 44 metre international sports hall, was handed over in late May almost two months ahead of schedule. Mike Ball, the Island's Director of Leisure, explained: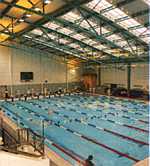 "These facilities meet the commitment given in our Island Games Bid documents and ensure that we have the level of facilities required to stage the Games. However, before 2001 we have a further phase planned. This will incorporate a second sports hall and will mean that more sports can be staged within the central venue."